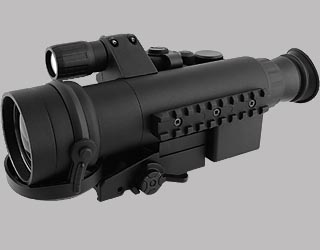 The Sentinel has a high grade of water resistance (IPX4 grade, according to the standard IEC 60529) and can be operated in precipitation of high intensity. Extra tube protection provides durability towards axial load when used with the majority of popular calibers, including .300, .308 or similar. The batteries (2xAA) are placed in the battery compartment vertically thus eliminating the influence of recoil on the stability of the energy supply.
The Sentinel has two scales - a horizontal scale to measure distance to the target, and a vertical one which facilitates adjustment when shooting at different distances. Initially the riflescope should be sighted at 50m. on the central cross hair. The distance is determined by putting a target with known width (0.5m) between the marks of the ">..<" type. If the target fits between the marks, you sho uld make the vertical adjustment according to the mark. So, you can make adjustments when shooting at distances of 15, 25, 50 and 100m. It is advisable to change the color of the reticle depending on the surrounding conditions. Red is best when used in clear viewing conditions, green is preferable for use when viewing is obscured. The color can be changed by a simple push of a button.
Specifications: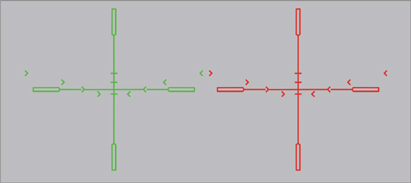 Image Tube Generation 1
Magnification, x 2.5
Lens Diameter, mm 50
Field of View, degree 13
Minimum Focusing Distance, m 5
Recognition Range, m 200
Eye Relief, mm 45
Exit Pupil, mm 6
Diopter Adjustment, D ±3
Resolution, lines/mm 35
IR Wavelength, nm 805
Power Supply, V 3 (2xAA)
Estimated battery life without IR under +20°C/68°F, hour 24/70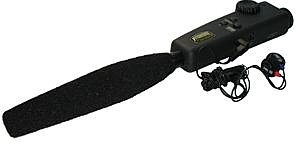 Operating Temperature, °C -30°C to +40°C/-22°F to + 104°F
Grade of water-resistance IPX4
Dimensions, mm 270x90x100
Weight, kg 1.0


Extra accessories are available on request:
1. Directional Sound Amplification System Yukon;
2. Yukon IR flashlight night vision;
3. Yukon NVRS 2.5X50 doubler night vision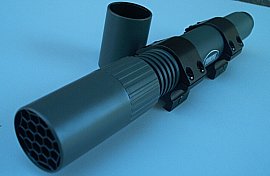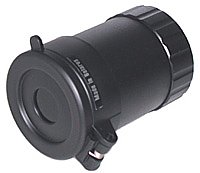 Delivery set:
- Yukon Sentinel night vision scope weaver mount
- Nylon carrying case
- Remote control
- Operation manual in 6 languages: English, French, Deutsch, Spanish, Czech, Russian
Shipping charges:

Winner pays £25 (23 s&h by airmail + 2 insurance)
Payment by PayPal, Bank Transfer, Money order or check.
International shipping.
SHIPPING TO ITALY IS ONLY BY EMS FOR EXTRA COST. PLEASE ASK FOR DETAILS

NO DUTY NO TAX NO VAT